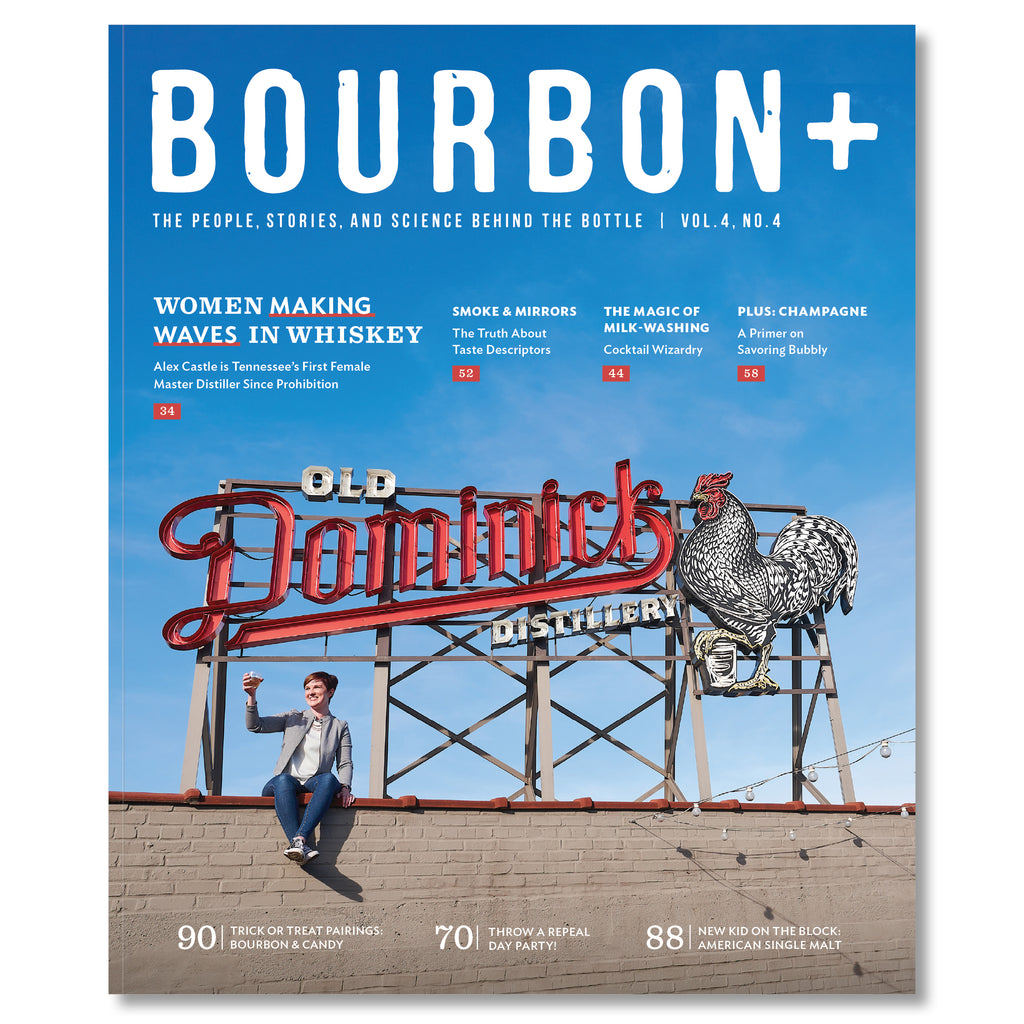 Bourbon+
Fall 2022
VOLUME 4 NUMBER 4, FALL 2022 

Fall brings sweet relief in the form of cooler temps and that long-awaited chill in the air. It is the season of bonfires, sweaters, and warm mugs of whatever your heart desires. And for those who eschew the darker spirits all summer long, colder weather brings the amber side clearly back into focus. But for those who do, in fact, prefer their bourbon clear, we've got an answer for that: milk punch and the science of milk-washing. And if you think that's out there, we'll also explore some tasty Halloween candy-and-whiskey pairings, as well as the new kid on the whiskey block: American Single Malt.
Then, an exposé: We're pulling back the curtain on taste descriptors. It's the truth about taste buds. Next, enjoy a serving of France's finest sparkling spirit, Champagne, along with a generous side of tincture tutelage—a delicious shortcut to next-level cocktails, plus surprisingly easy recipes for homemade tinctures from the Cocktail Contessa herself, Bourbon+ contributor Heather Wibbels.
Speaking of high-profile ladies in the whiskey world, this issue features a bevy of talented bourbon women. We learn about how Alex Castle became the first female master distiller in Tennessee since Prohibition when she joined the team at Old Dominick Distillery in Memphis. At the first distillery in Manhattan since Prohibition, we chat with Head Distiller Celina Perez of Great Jones Distilling Co. about the recent launch of the brand. Back in Bourbon Country, in the heart of downtown Louisville, former Old Forester Master Taster Jackie Zykan tells us about the path she's forging in her new brand, Hidden Barn.
A salacious bit of whiskey history is unearthed by our own bourbon historian, Chuck Cowdery, which tells of the turbulent romance of Hiram and Mollie—he, an influential bourbon man of the famous Berry family of Frankfort, Kentucky, and she, a, well—ahem—Lady of the Night. From the late 1800s we time-travel to modern-day Prospect, Kentucky, where our Bar Scouts found a bar with the largest collection of exclusively American whiskeys in the United States: Watch Hill Proper. If you can't make it there for a dram, then we'll show you how to host a rollicking party to celebrate the 89th Anniversary of Repeal Day on December 5.
Of course, there's a lot more to celebrate as we kick it into high-gear for the holidays. In this time of merriment—amid the shopping, decorating, gift-wrapping, cooking, and, of course, partying—we hope you'll take moments to slow down and savor the spirit of the season. Cheers!
Cover photograph by Heather Durham