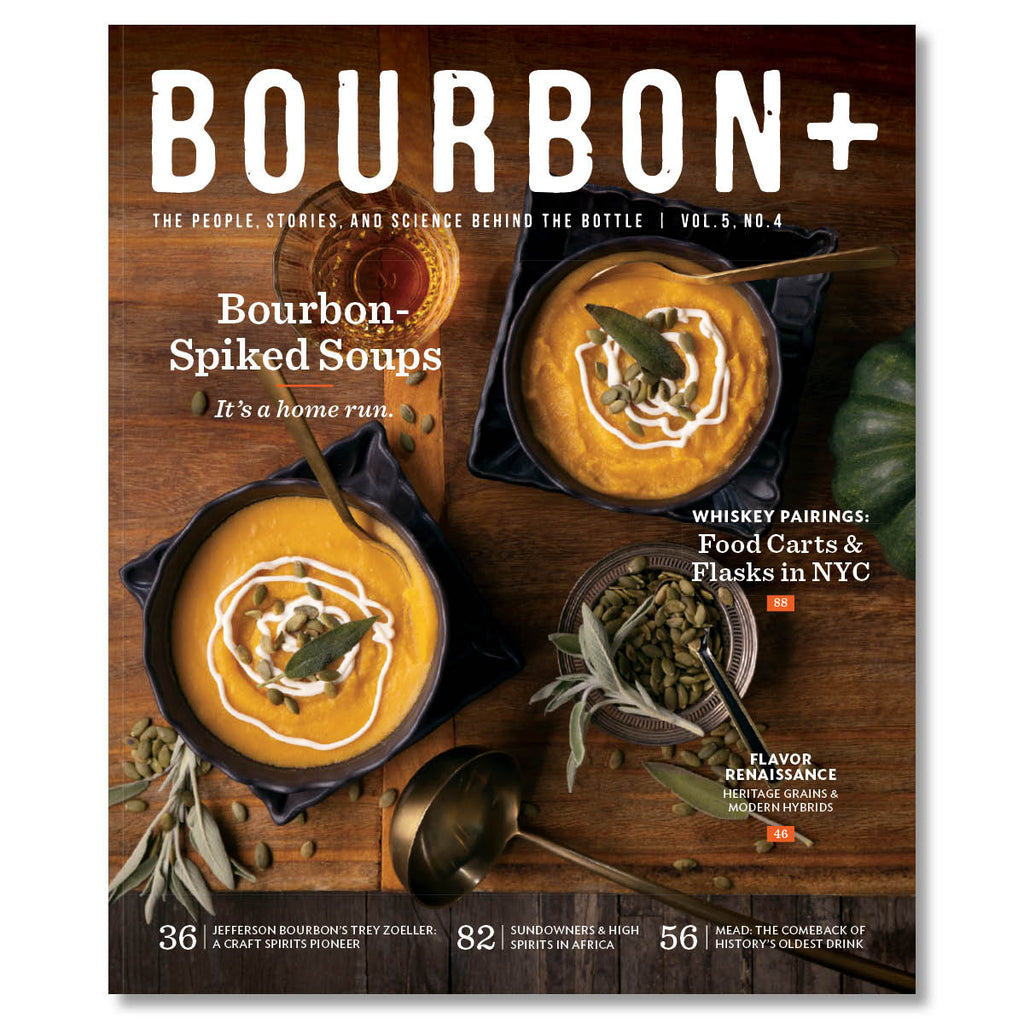 Bourbon+
Fall 2023
VOLUME 5 NUMBER 4, FALL 2023

The leaves are changing colors, the air is cooling off, and the opportunity to enjoy your favorite spirits in a different way awaits. It's time to curl up on the couch with your favorite blanket or sit out on the porch in the crisp, fall air. Savor the spirit of the season with a bourbon spiked soup, or—if adventure is what you're craving—take a trip to Hye, Texas to visit the Garrison Brothers Distillery. As the oldest legal bourbon distillery in Texas, this brand's spirits lineup has garnered an impressive array of awards and proved that Texas bourbon is not only legal, it's also delicious.

After that, meet the spirits industry's adventurous risk taker and inventive pioneer, Trey Zoeller of Jefferson's Bourbon. As the brand's founder and chief strategist, Zoeller is among the most prominent personalities in Kentucky bourbon today. Then, learn about the heritage grains that are reclaiming their place in the mash bills of American whiskey and the sweet historical allure of mead, an alcoholic, fermented honey beverage that has begun to find its footing in the modern imbibing world over the past several years. Next, get into the holiday spirit with the godfather of holiday pop-up bars that has grown exponentially since its inception nearly a decade ago. With more than 100 participating bars in 30-plus US cities, Miracle Pop-Up has become a highly anticipated annual event you won't want to miss.

After that, jump into the pages of Agatha Christie's And Then There Were None and appreciate the comfort, camaraderie, and escape from the outside world that is uniquely shared over spirits. Check out BIG Bourbon Club's 2023-2024 calendar of events and download the BIG app to ensure you never miss out on a tour, tasting, or presentation. Come along as Brad Japhe takes us for spirits and safari sunsets in Africa, where a drink is only as good as the experience surrounding it. Learn about the African Sundowner tradition, a happy hour in which unrivaled relaxation meets unparalleled excitement. Then, break the rules of street eats in the city by taking a chance on new sidewalk pairings, such as falafel and American single malt.

Step into a day in the life of Dan McKee, whose passion and love of whiskey making has taken him from a third-shift still operator at James B. Beam Distilling Co. to Executive Vice President & Master Distiller at Michter's Distillery. Get the inside scoop—or inside taste, better yet—on what the mixologists at Garrison Brother's, Michter's, and Jefferson's Bourbon are drinking. And finally, learn about the rollercoaster that is the history of American whiskey in Texas and how an 1870s editorial pleading Texans to "not charge all the villainy in Texas to whisky" has continued to be relevant for over 100 years. This issue encapsulates the spirit of the people and places that make the spirits we love so special. Enjoy!

Cover photo by Justin Fox Burks