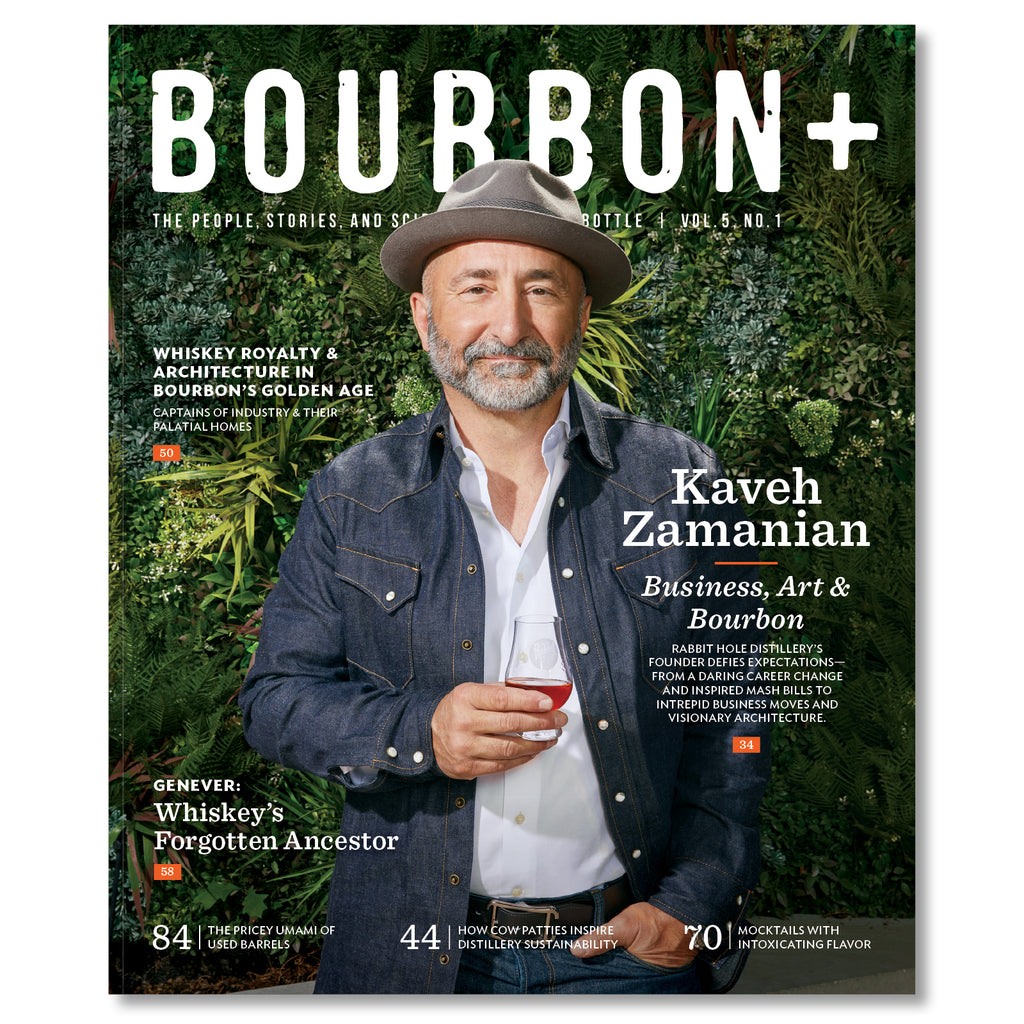 Bourbon+
Winter 2023
VOLUME 5 NUMBER 1, WINTER 2023

Pull up a barstool and peruse our Winter 2023 Bourbon+ menu, full of freshly sourced and highly prized ingredients: Like the rare umami found only in the previously soaked staves of used barrels—flavor notes that contain whispers from macerated Valencia oranges from Spain or echoes of Port aged in the ancient villages of the Douro River Valley. Used barrels are quickly reaching Beluga caviar status in distilling circles for their finishing excellence. Equally elusive yet available to us all is the soul-stirring succor of the campfire—when paired with a dram, there's nothing quite like it. 
Also on the menu: The Up to Date cocktail. This concoction is made with staples of the bar well: whiskey, sherry, orange liqueur, and aromatic bitters.
And the resulting flavor places it squarely in the classic category. Another classic in these pages was lost to the ebb and flow of trends but has once more washed ashore: Genever. It's the godfather of gin, whiskey, and vodka and its ability to shapeshift between the best qualities of those three are what make it so captivating. 
If you're in the headspace for a night off the juice—Steve Coomes has curated a collection of tasty mocktails. However, if your current vibe is escapism, specifically into the embrace of a "cosy wee bar" in Scotland, then tuck into a tipple of Scotch at the Curly Coo Bar in Stirlingshire. Bar owner Mandy Silver serves up sips of world-class whisky with wit and charm in her award-winning watering hole.
Speaking of accolades, Kaveh Zamanian of Rabbit Hole Distillery was a 2022 inductee into the Kentucky Bourbon Hall of Fame, honored for his exceptional spirits, paradigm-bending distillery architecture, and dynamic brand. Another remarkable label in these pages, Wilderness Trail has unlocked a door to a sustainable whiskey-production future. Cow dung inspired their light-bulb moment, then they adapted ultrafiltration science to process their stillage waste. Tattersall Distilling is also committed to the sustainability game. They're shooting for carbon neutrality and more. 
Now that you've seen the menu, your appetite whetted, you're surely ready to dig in! 
Cover photograph provided by Rabbit Hole Distillery