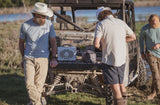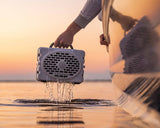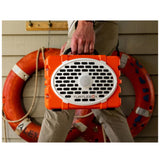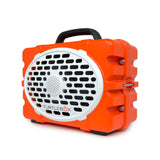 Turtlebox
Portable Speaker
Made for being in the field and on the water, the Generation 2 Turtlebox Portable Speaker is the ultimate outdoor speaker. For its big sound, the Turtlebox is extremely portable, lightweight and compact—easily carried with one comfortable rubber handle. About the size of an old-school lunchbox and weighs about 10 lbs.
• Premium Sound
• 100% waterproof
• Sound that cuts through wind and travels distance outdoors.
• Stainless Steel Tie-Down Anchors: Located on both sides of the Turtlebox for use with 1" straps, allowing you to securely strap down your box to any UTV or boat
• Stability on the Move: Specially designed large rubber feet on the bottom AND rubber feet on the back allow you to lay the Turtlebox on it's back—speaker face up, for extreme stability.
• 120 decibels
• 20+ hours of playtime
• USB-C Output makes the Turtlebox a portable power pack.
• Bluetooth 5.0 Connectivity
• Bluetooth Stereo Pairing: Wirelessly connect two (Gen 2) Turtlebox speakers for true Left/Right stereo imaging. (Please note that because of the upgrade to Bluetooth 5.0, the Gen 2 speakers will not stereo pair with Gen 1 units).