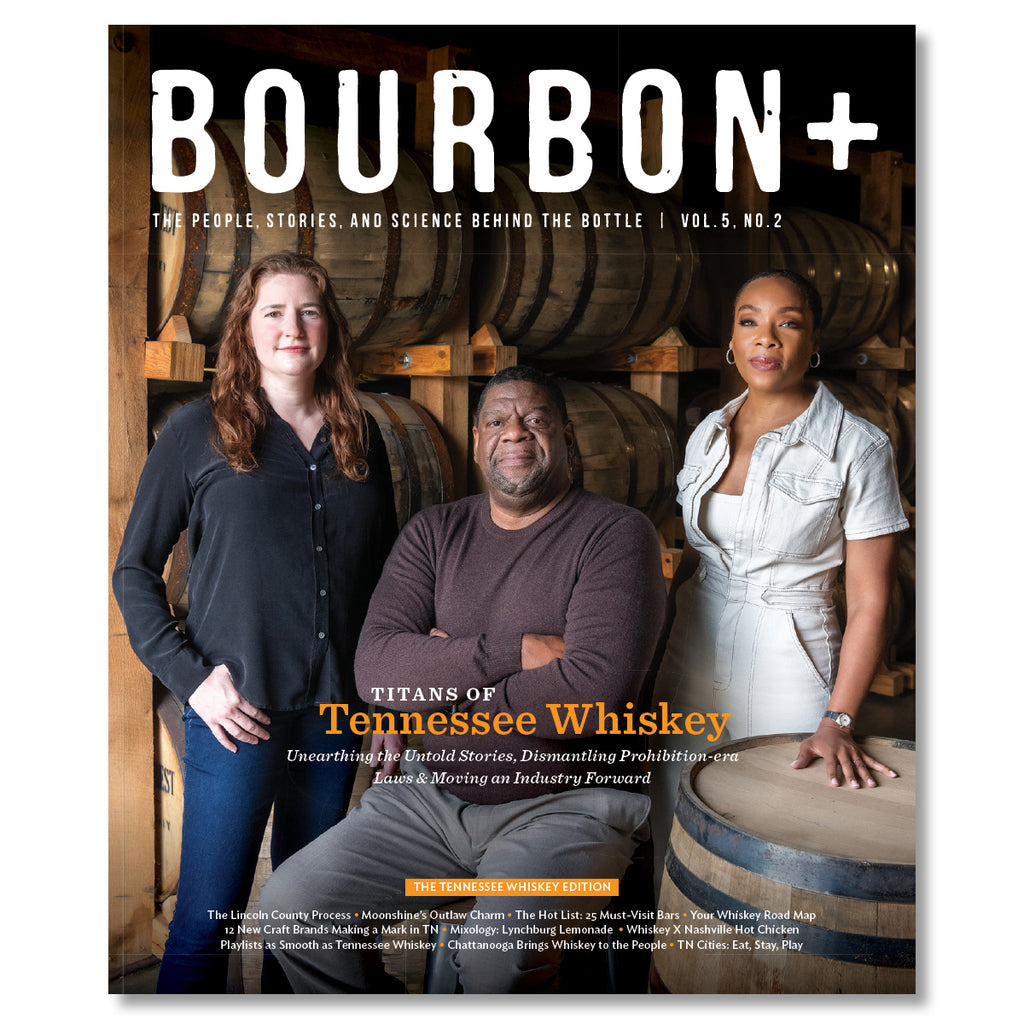 Bourbon+
Spring 2023
VOLUME 5 NUMBER 2, SPRING 2023

In this special spring edition of Bourbon+, we are highlighting the great state of Tennessee. Gracing our cover are three whiskey powerhouses: Our Guest Editor Fawn Weaver of Uncle Nearest, Melvin Keebler of Jack Daniel's, and Nicole Austin of George Dickel. We visit with each of them and learn how they are making award-winning spirits that give back to their communities. And speaking of giving back, the Whiskey House in Nashville is aiming to raise half a million dollars this year in charitable funds through their massive whiskey collection and tasting events.
Once you read this issue, you'll be itching to hit the Tennessee Whiskey Trail and perhaps traverse a Great Smoky Mountain trail or swimming hole, so we've got your road map laid out, complete with itineraries for how to spend 24 hours in Memphis, Knoxville, Chattanooga, and Nashville—not to mention three Tennessee- and whiskey-themed playlists to serve as soundtracks for your travels.
You're sure to work up an appetite along the way, so we've turned to top local chefs for their creative culinary spins on collards, catfish, succotash, and gravy (the chocolate variety). Plus we do deep dives on how to pair whiskey with Nashville Hot Chicken and the history and particulars of Lynchburg Lemonade. And if that is not your cocktail of choice, there are endless options to be found in our roundup of the 25 hottest bars across the state of Tennessee. Add your favorite to your road-trip checklist. For our "Young Spirits" department, we decided to highlight a dozen distilleries that are new to the scene, from one housed in a haunted old state penitentiary to one jangling with live music in the historic Chattanooga Choo Choo Hotel.
And if we travel into our country's most visited national park, the Great Smoky Mountains, you'll also discover the most visited distillery in the world: Ole Smoky Moonshine. We dug into the allure of this once illegal hooch and how it's become a mainstream best-seller. While we're on the subject of breaking the law, let's talk about changing the law and how a group of folks thirsty for local whiskey fought Prohibition-era laws to create jobs and bring delicious local whiskey to Tennessee. One of the players in that battle runs Chattanooga Whiskey. We visit their Experimental Distillery as well as Leiper's Fork.
If we've learned anything in making this issue, it's that Tennessee is brimming with exciting adventures, good eats, and exceptional spirits, which are rivaled only by their wonderful people. Enjoy!
Cover photo by Heather Durham