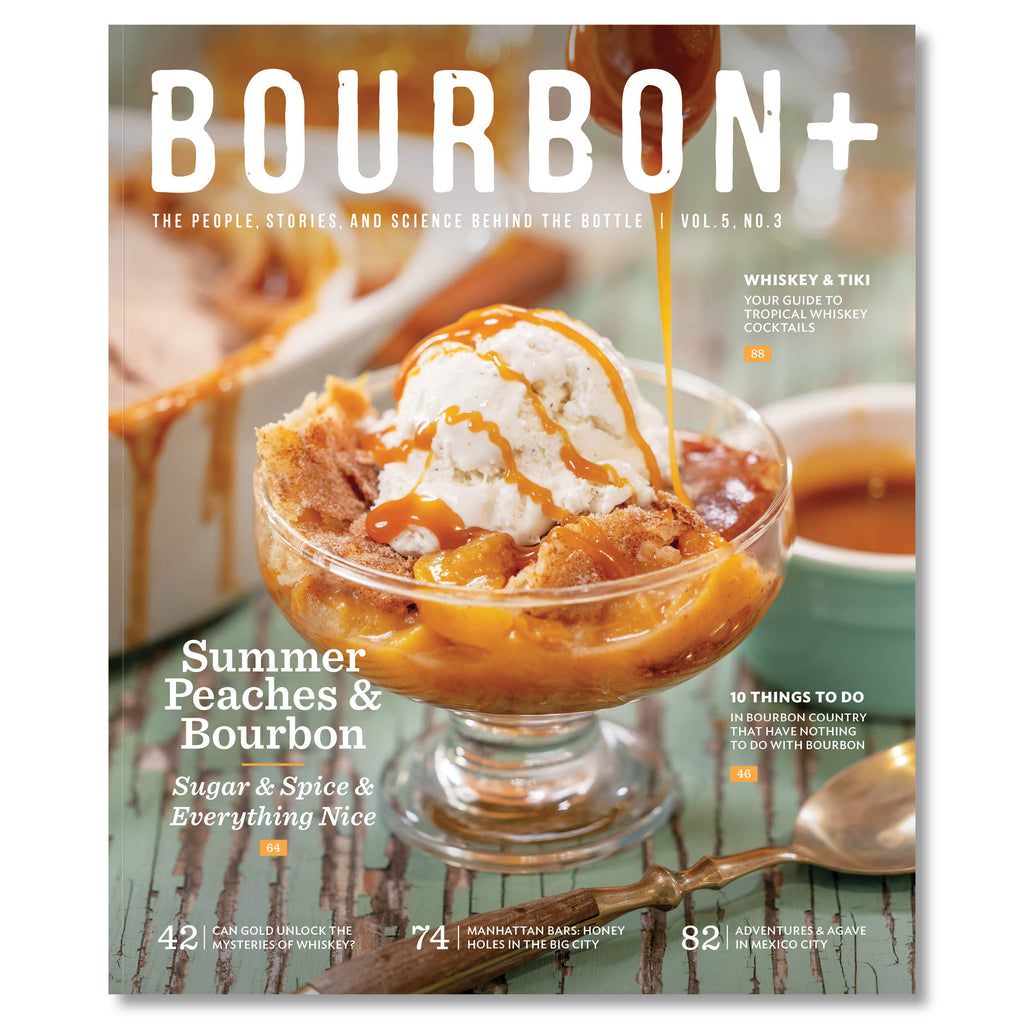 Bourbon+
Summer 2023
VOLUME 5 NUMBER 3, SUMMER 2023

Make a splash this summer with peachy bourbon-infused recipes, whiskey tiki cocktails, and intel on an ancient rice spirit that hails from the subtropical rainforests and beaches of Okinawa and the Ryukyu Islands: awamori. It dates back about 600 years to the Silk Road and harnesses the fascinating properties of black koji mold. On the more traditional side of the culinary spectrum, cookbook author, Bourbon+ contributor, and Memphis native Jennifer Chandler shares some delicious dishes from her Southern table—all featuring ripe summer peaches and bourbon. Bartender Laura Newman gives us the history and evolution of the Port Light cocktail; while, G. Clay Whittaker takes a humorous and insightful dive into the whiskey-spiked tiki world. Then, we revisit the dark days of Prohibition to learn how American tricksters side-stepped the law for a tipple of hooch.
Next, we travel, enjoying a spirit lover's tour of Mexico City with all the tacos, cocktails, culture, and fun you can squeeze into a day. Stateside, in New York City, we visit three top-notch whiskey bars that will make you want to dog-ear the page in anticipation of your next trip to the Big Apple. In Kirby, Wyoming (population 78), a young start-up distillery is already making waves: Wyoming Whiskey's story includes valuable lessons, friendships built alongside esteemed industry experts, and, of course, great whiskey.
In the science and innovation sector, we consider the potential impacts of a recent study released from scientists in Glasgow, Scotland, which posits that swirling gold nanoparticles into whiskey can reveal how much flavor the liquor has extracted from the wood. And at Eureka! Ranch outside of Cincinnati, Ohio, inventor, innovator, and marketing mastermind Doug Hall has developed what can only be described as the "flux capacitor" of whiskey-making, used to create custom whiskies to perfectly match the palates of individual consumers—a big, disruptive idea that could certainly shake up the industry. Heaven Hill's Bernie Lubbers gives us a glimpse into the life of a brand ambassador, and it's not as easy as it seems.
If you're making a trek to Bourbon Country any time soon, check out our list of 10 things to do in Bourbon Country that have nothing to do with bourbon. Spirits writer Tom Johnson compiled that list, as well as an update on the emerging bespoke ice industry. Turns out all those jumbo cubes are big business. Speaking of big, we've partnered with the world's first virtual bourbon club—Big Bourbon Club—to debut a new column curated by the group's founder and to collaborate on events and perks for bourbon aficionados. This issue is simply overflowing with whiskey goodness. Cheers!
Cover photo by Justin Fox Burks